10/12/2015 minor
The following applies to inline editing in Route tab (name, comment) and Waypoint tab (name, comment and hyperlink) and folder names (privileged users only):
-
Esc
key exits edit mode leaving text unchanged.
-
Enter
key saves any changes
Fixed bug on Geocache tab when keying text in name or owner field some keys were interpretted as commands i.e. searching for "rev" would fire commands R, E and V.
Tidied up mapRoute SVG logo and reduced size.
03/12/2015 minor
Download the active route by pressing the
D
key. This means you don't need to save the route, so is especially useful for the Guest user.
More code tidying and bug fixing.
02/12/2015 information
Well it's been just over a month since my last web host fiasco, so here we go again. This time a PHP upgrade disabled SSL for cURL. This effectively meant that I couldn't make any calls to the Geocaching Live API. Despite doing a full diagnosis and telling them exactly what the cause was it still took a full day, loss of sleep and a lot of frustration and wasted time before they'd stop trying to pass the buck. The outage lasted almost a full day.
I'd love to use a better, dedicated service, but this web app doesn't make any money, so I can't see it ever happening. The contract is up for renewal in under a year, so I'll be moving things before then.
26/11/2015 minor/information
Added Guest mode. You can't save anything (including settings), but useful for a taster before signing up. All Geocaching (except auto visiting trackables) functionality will work. You will be asked for approval at Groundspeak on each session.
Found a bug which prevented newly registered users from viewing the maps. Fixed and emailed all affected users.
Hid the export drop down completely on the Route tab.
12/11/2015 intermediate
Drag-to-map
allows you to drag and drop gpx files to the map surface to view routes, tracks and waypoints in the same convenient way that geotagged jpg photos can already by done. Moving the cursor over a route/track highlights the route and displays an infobox at the start of the route. The infobox show
points in route
/
points in gpx file route
along with name. Distance, ascent and descent values are calculated and displayed. Click the
Activate
button in the infobox to load the route/track as your current active route. The route can now be edited and saved.
Drag-to-map routes/tracks are simplified to enable easier editing, removing points whilst retaining route detail. This is particularly useful when importing tracks.
Click a drag-to-map waypoint to convert it to a saved waypoint. The waypoint will use the gpx defined name and icon wherever possible. Many objects can now be viewed from gpx files very quickly.
Multiple files can be dragged at a time. Each file can contain multiple objects. A summary import message is also displayed.
Changed menu button to show username.
06/11/2015 intermediate
Fixed GPX imports.
Improved
Loading...
message on tabs.
Menu options only appear when relevant. i.e.
Clear Photos
is available only when geotagged photos have been dragged and dropped onto the map.
Fixed route length calculation on prune or pin deletion.
Fixed issue with photo D&D not always loading the correct photo to a pin. I'd never seen this issue before despite extensive testing in this area.
Minified JS and CSS for faster load times.
Removed any remaining synchronous AJAX calls, as this feature has been deprecated.
Large restructuring of code into manageable modules and utilizing some techniques I've learnt along the mapRoute development journey. This may not directly effect the user, but it will certainly improve any future developments.
28/10/2015 information
My web host temporarily suspended my account as some processes were consuming too much processor resource. It was quickly evident that this was nothing to do with mapRoute and was in fact a bug in Wordpress 4.3, which was installed automatically from the web host's Softaculous Application Installer.
I would love to change web host and maybe get a dedicated server, but that takes more money than I can possibly plough into this project.
26/10/2015 minor
Support
tab (key 0) allows users to raise bugs, request new features and ask for information/help. Once the ticket has been created just click on the ticket row to see updates. You can filter the tickets you see by type and status. You will currently only see your own tickets.
This is intended as a simple, in-app method of communication between the users and the author, so don't be shy. If you have any good ideas for new features or if you find that something is broken, or not working as you would expect then please raise a ticket. Your assistance in this area will be very much appreciated.
24/10/2015 intermediate
Some cachers take trackables to visit each cache they find. Now mapRoute can do this automatically for you. All trackables in your possession now appear in the
Settings
tab. You can set each trackable to
Inactive
(do nothing),
Visit
(log trackable visit to each subsequent find) or
Drop
(drop the cache in the next cache found). This feature is now open to all users (29/10/2015).
Fixed import tab, which needed some work after the recent mySQL upgrade.
Fixed Shared Routes when linking from outside of mapRoute, like
this
.
Moved
Archived
and
Shared
route tabs into the
Active
route tab. I may re-number the tabs in future as 2 and 3 no longer exist.
Tabs can be selected by numeric key when viewing another tab. The numeric value is also shown on the tab now.
Disabled editing of slider values via numeric keys.
Removed ugly anchor popups on hover wherever possible.
16/10/2015 minor
A few minor fixes while I continue to work on a bug and feature reporting tab.
18/09/2015 major
Updated all location data including routes to use
spatial
datatypes. This should give a performance improvement and has only been possible since the recent mySQL upgrade.
Imported Definitive Map data for public right of ways. Thanks to
Barry Cornelius
for collating and making available this data. His website lists of the counties where data is currently available. The 100 nearest RoWs to the map centre are displayed when the letter O key is depressed (currently privileged users only). I will be adding a lot of changes to this area in forthcoming updates. Current key is
Footpath
,
Bridleway
,
Restricted Byway
,
Byway
. You can see the route type along with council, parish and path name on the status bar as you move the cursor over the path.
Fixed bug where route is not displayed properly when a point is deleted from within the route.
Fixed bug where route distance is not displayed correctly after leaving route
Create mode
.
Fixed bug where selection of rectangle in
Prune mode
didn't always work.
28/08/2015 emergency fix
Yesterday afternoon my web host decided to perform some major software updates
without informing their users of what they were doing
. This caused mapRoute to completely fail and I had no option but to take mapRoute down for a couple of hours while I performed open heart surgery on mapRoute. One day later I've been forced to release the code I have been working on before it's ready, as maintaining the development code and production code separately was just not viable. The new functionality allows the user to search for a Geocaching trackable from the
Find/Waypoint
function by tracking number or TB code. This has not had the usual level of testing due to the above circumstances. I am also aware that there is a new bug which affects importing GPX files. This isn't critical, so I'll fix it as soon as time allows.
In the meantime please let me know if you find any bugs and I'll do my best to fix them asap
13/08/2015 major
Drag and drop one or more geotagged photos anywhere on the map. A photo waypoint icon

will show the position where the photo was taken. Move the cursor over the icon to show the filename, date and time the photo was taken, coordinates and a thumbnail (reduced size) photo. Photo orientation is automatically corrected using the photo's EXIF data. Thumbnails are sized to the
Photo size
slider on the
Settings
tab (look in the
Objects
section).
Loading large photos will naturally take a little time. Having a lot of photos loaded of large thumbnail size will consume more of your PC's resources. A reasonably specified PC should have no problems with this.
Select
Clear Geocaches/Photos
from the menu to erase all photos from the map. Photos are not saved or uploaded to the server.
Note: Smartphone images are normally geotagged automatically. If you have a GPSr track file covering the time you took your photo you can use the free and excellent
GeoSetter
to geotag your photos.
The example below shows a small thumbnail with width (longest edge for this image) being 200 pixels.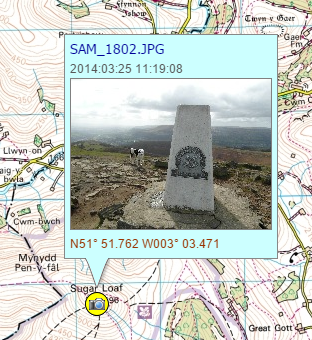 Removed synchronous AJAX calls.
Fixed links to T:UK and hill bagging web sites.
A number of other minor fixes.
Although only for my use (as it hooks into
my GPS route data
), I also added support for
The Big Pathwatch
. You can see how it works
here
. Double click the map to highlight a grid square and show all the routes in the square I have walked since the project started on 11/7/2015. Within mapRoute this allows me to plan a route whilst viewing the paths I have already walked. The new photo import is also great for locating issues on the OS map.
25/07/2015 intermediate
Added
Prune mode
, which allows you to delete multiple route points in one go. To enter
Prune Mode
you must be in
View mode
. Press the
P
key. Click to locate one corner of a rectangle on the map. As you move the cursor a rectangle will join the point to your cursor position highlighting all the points within the rectangle. You can chose to delete all highlighted points. Press
Esc
at any point to leave
Prune mode
.
Replaced ugly default confirmation boxes with nicer, asynchronous confirm dialogue boxes.
A number of bug fixes.
05/07/2015 minor
Remove individual Geocaches by right-clicking the cache icon on the Geocache tab.
Added
Clear Text
button for Geocache Logs.
A number of fixes for editing Waypoints in Chrome.
Can now click Geocache name (Geocache tab) in Chrome to open the listing page at Geocaching.com
Right-click Geocache button immediately changes highlight colour.
Reinstated colour selector for routes.
Other bug fixes.
16/06/2015 minor
Photo uploads can now be rotated by 0, 90°, 180° or 270°, while the canvas is resized appropriately and text remains horizontally positioned.
The refresh button has been removed as all photo changes take place as soon as you make the change now.
Added Opacity to the text, so you can make it translucent.
Added five image size templates from 640x400 to 2000x1500. Geocaching.com will resize anything bigger than this, though you'd have to upload the extra data first if you did it on their site.
13/06/2015 major
Photo upload added incorporating image resizing and text overprinting. All images are resized to 1200x900 pixels before uploading, making your uploads quicker. Also they happen in the background, so you don't have to wait for them to complete before doing other things. Here's how to use it:
Click the Geocache icon to display the listing and logs (you must be using Full API calls to show the logs). Find your log which you want to upload a photo to. Click the camera icon

at the top of the log.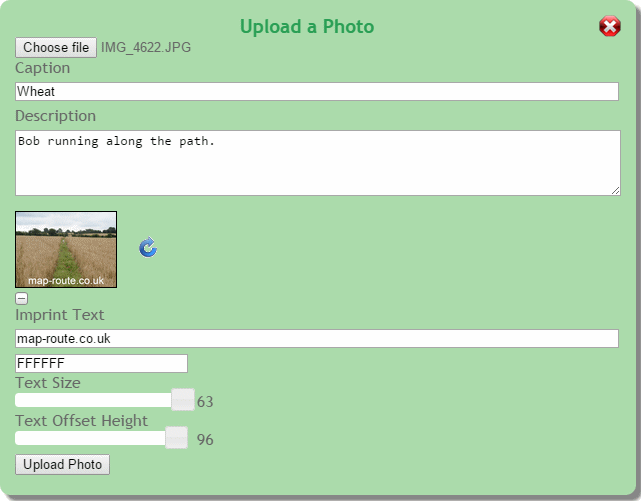 When you select a photo a thumbnail image is generated and displayed to show you how the uploaded image will appear. Click the thumbnail image to show the full size image in a new browser tab.
You can change any parameters then reprocess the image by clicking the reload icon.

Click the colour value (FFFFFF (white) in the example) to reveal the colour selector. Chose your text colour by clicking on the colour you want. Then chose how light or dark you want the colour to appear.
Text Offset Height
dictates the vertical position of the text. 0=top. 100=bottom.
Leaving the
Imprint Text
blank will cause imprints to be ignored.
You can upload as many images as you want by repeating the process. All text imprint values set will be remembered in subsequent sessions.
The next release will allow a choice of image sizes and image rotation.
A refresh button has been added to the top-right of the cache listing. This reloads the cache data. One reason for this is because the Geocaching Live API doesn't make it possible to show the new images on the loaded page without a lot of unnecessary calls, so you can verify they easily this way once you have uploaded all images for a cache.
Geocaching Live API started expiring tokens after 90 days from 1/6/2015. If your token expires you will automatically be taken to the token authorization page now. This can be done manually of course by selecting
New Geocaching Token
from the menu.
02/06/2015 intermediate
Trackables can now be logged in mapRoute. Hover cursor over Geocache, move cursor into infobox and click on

to pick up a trackable from the cache (only displayed if there are trackables in the cache) or

to drop a trackable in the cache (only displayed if you currently have a trackable). Each icon will turn yellow when the cursor is over it.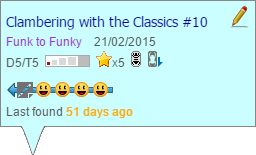 Retrieving a trackable will show the dialogue below. Dropping a trackable is similar, but without the tracking code data entry area.

All other options such as write note, discover, grab etc are all available by dropdown selection.
- Select the action (retrieve, grab, note or discover).
- Select the required trackable if there are more than one in the cache. The icon will be updated to reflect the trackable. You can click the icon to open the trackable's web page.
- Enter the tracking code.
- Select the date you picked up the trackable if necessary.
- Enter some text. This is optional.
- Click the
Action Trackable
button.
If you are using lite API calls you will be notified that the trackable information is being retrieved. Just click the TB icon again after a second or two.
There have been lots of other small fixes implemented in this release.
24/04/2015 major
Waypoints can now have associates hyperlinks. If defined you can click the waypoint title in the infobox to open the link in a new tab.
Infoboxes are now custom html and remain visible for 1/2 second after cursor moved off them. This means you can move cursor over the infobox and click links on the infobox. Links include:
- click pencil to add a log from within mapRoute.
- click favourite star to add or remove your favourite point.
- click cache name to open cache listing on Geocaching.com.
- click owner name to view owner's profile page.
Infoboxes now resize much better and the information in different infobox types is more uniform and looks better.
Adding a log
Select log type, date, text and click POST LOG.
Text comprises header, main text and footer (header and footer are minimized by default, so click

to expand them).
Headers and footers can be saved to automatically always show the same text. i.e. if footer is [red]mapRoute rocks![/red], this will automatically show
mapRoute rocks!
at the end of each log.
Tip: You probably would want a newline (Enter key) before this, otherwise it will appear on the same line as your main text.
The log appears in the preview window as it will appear on the web site.
Click an icon to insert said icon into your log.
Highlight some text and click the format button to make it bold, italics or a hyperlink (you must add the URL of course). Add colours in exactly the same way.
Two special variables are currently available. This will be added to.
- [owner] This is replaced by the cache owner name.
- [fundnum] This is replaced by your find count+1
For example your header could be. "Hi [owner]. This was find number [findnum] for me." Again, you probably want a newline, but the preview window makes that obvious.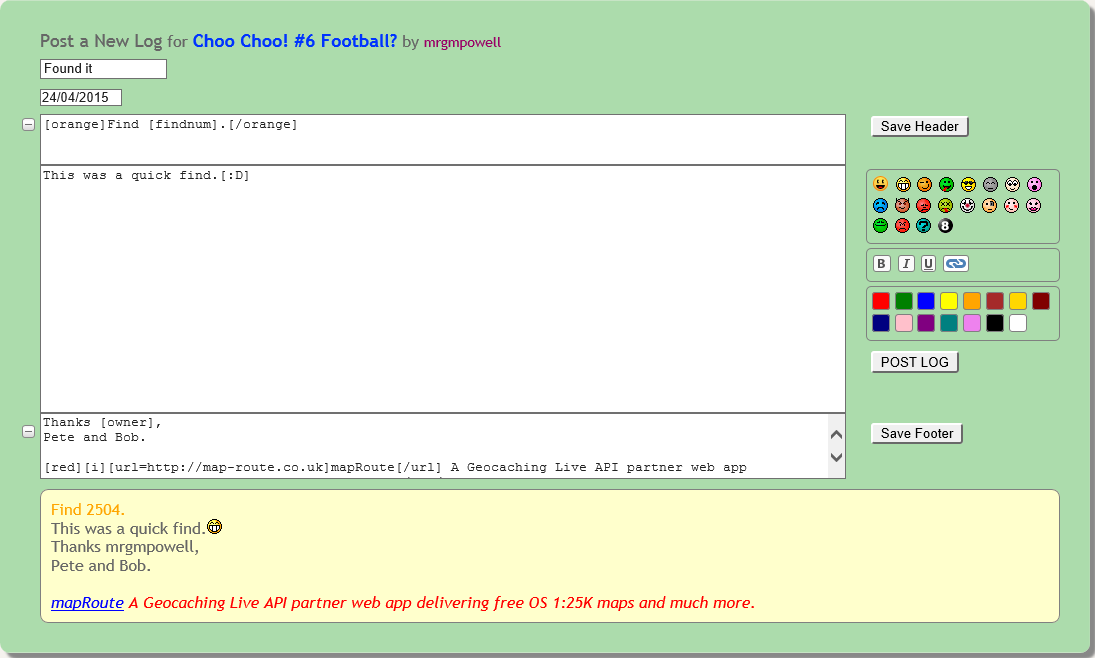 06/03/2015 minor
Personal Geocache Notes
are indicated by an
underlined
cache name in the Geocache tab. Place cursor over the cache name to reveal the note.
Auto exit from
Create mode
when saving a route.
When performing a
Find Geocache
place the green arrow at the location for corrected coordinates rather than posted coordinates.
Re-load route if route appearance configuration has been changed, so changes are visible immediately.
Waypoint infobox now shows location in current position format after format has been changed.
Place cursor over route name in status bar (route must be loaded) to reveal create and updated dates.
Show no compass arrow for Geocache when cache is exactly on crosshair.
Changed how Geocache event date is shown in infobox.
Fix: Some debug was stopping the link icon from updating when a route was selected or de-selected as a shared route.
09/02/2015 minor
Minimize/maximize map buttons by clicking

or

to free more screen for map. Selection is remembered between sessions.
Geocaches now shown at
corrected coordinates
location. Additional waypoint

indicates posted location. This is a very simple way of recording final location for multicaches and puzzles so the cache appears in the real location, hence making planning your route easier. Cache name will appear green to indicate it is corrected.

additional waypoint icon is now redundant.
Now displaying Geocaching event date in infobox and listing for types :
Event
,
Mega event
,
CITO
,
10 years
,
Lost & Found
,
Block Party
and
Giga event
.
Fixed Geocache user log avatar sizes. I had previously assumed that Groundspeak only allowed standard size avatars until I spotted Chaotica's.
Added lesser used Geocaching icons such as
Groundspeak HQ Cache
,
Locationless
etc.
If additional waypoints are being displayed, subsequently loaded geocaches will display their additional waypoints automatically.
Folder name now appears in infobox for routes.
Esc or right-click to close quickhelp.
Indices added to Gazetteer positional data for faster lookup.
04/02/2015 minor
Various elements can be repositioned on screen by dragging. i.e. Elevation graph, search dialogue, icon picker, route save dialogue.
When saving a new route a nearby place name was suggested (provided by remote web service). I have removed this and replaced it with the following:
Local lookup offering up to the nearest 12 Gazetteer place names via a dropdown list. These are places classified as cities, towns, villages, hills/mountains or woods/forests.
Using the radio buttons on the
Save Route
dialogue you can dictate where in relation to your route the name suggestions are centred on.
The suggestion can be edited or completely ignored if you like.
The data source is mapRoute's own Ordnance Survey Gazetteer database and is faster, more reliable and infinitely more flexible than the previously used source.
Note that Gazetteer data is not always categorized correctly. In testing I found hills like
Pen y Fan
and
Cribyn
were classified as
Other
(I have fixed them) and
The Narth
(a place I walk a lot) was listed as
The North
(and also
Narth, The
). If you need any amendments making to the OS data just let me know the name (as it appears), lon/lat (approximate) and correct classification. You can find all Gazetteer information via the
Find
button.
Gazetteer categories are : City, Town, Village, Hill or mountain, Forest or wood, Antiquity (Roman), Antiquity (non-Roman), Water feature, Farm and Other.
27/01/2015 minor
Added drag and drop folders for routes and waypoints (privileged users only). Tied up drag and drop waypoints and folders allowing dragging of any part of the row (except editable text) onto any part of the folder row.
Move
column removed.
Click Lite API LED in Geocache tab to load Full API details for individual Geocache.
Update waypoint infobox coordinates when waypoint location dragged on map.
Close Icon Picker with escape key.
Added a few missing waypoint icons.
Highlight current waypoint icon in Icon Picker.
Fixed edit waypoint coordinates.
Fixed link from Geocache owner on Geocache tab.
Fixed waypoint icons so the list is cleared before append to when device is changed in
settings
tab.
20/01/2015 minor
Percentage of Premium Logs that are favourites shown when you hover on listing faves.

All logs must be loaded first as the API doesn't provide this information.
Hover cursor over number of caches found by a user to reveal their hide count.
Tips re-instated. Hover of trackable icon to show trackable mission. Privileged members can again hover cursor over smiley on caches they have found (Geocache tab) to reveal their find log.
Lots of little fixes that you will probably never notice, but I'll list them for completeness.
Show Geocache Print Page (GPP) even if route not loaded or saved; Show
Loading...
on GPP until data ready; Show last 5 log status on GPP; Fixed occasional overflow on Geocache tab; Allow to save route after loading static route; Truncate data which is too long to show in status bar (usually route name); Fixed log type totals for
Will Attend
and
Unarchive
; Keyboard functions disabled when editing waypoint on map; Waypoint
AddedDate
now datetime; Added
LastUpdated
column for waypoints and show on tab hover; Fixed saving settings so Bi-directional route export is not always set; Clear TBs from display when showing cache details; Update preloaded images on login page;
10/01/2015 minor
Added ability to track "
friends
" Geocache logs. This is in no way related to the partially implemented
Friends
functionality on Geocaching.com as no API functionality exists.
Select
Friend
option in settings to show friends logs above all others, or highlight them in-line, or both. Then load a cache and click the grey light on a users log to permanently add the user as a friend (only within mapRoute). Click a green light to remove a
friend
.
Only loaded logs will be highlighted. This works well in conjunction with the
Load All Logs
button.
08/01/2015 intermediate
If a Geocache has
corrected co-ordinates
(sometimes referred to as
User Waypoints
) create an additional waypoint for those co-ordinates.

Geocache will still appear at posted location.
Added
Load All Logs
button to Geocache listing which actually loads the next 500 logs rather than all. This limit is set as a precaution to prevent caches with huge numbers of logs crashing your browser. The vast majority of caches will have fewer logs than this anyway.
When all logs have been loaded for a Geocache the logtype totals will be displayed between the description and the logs.
Added waypoint creation date and folder name to waypoint infoboxes.
Bug fix : Remove route updated flag when loading a route from the map (not tab).
15/12/2014 intermediate
Added photo slideshow and forward and back buttons.
Escape key to close photos and listings (in addition to right-click).
When a route and caches are loaded the proximity of each cache to the route is calculated (shortest distance to any point on the route) as well as the distance that this point is from the start of the route. This makes showing the caches in route order much easier. This information appears on the Geocache tab as Prox and RtDist.
Slider on listing screen (invoked by pressing L when a route and caches are loaded) shows caches within a proximity of the defined slider distance to the route above the Print bar.
Fixed issue where the same geocache logs could appear multiple times for the same listing.
Note: Mozilla have introduced a bug in Firefox which messes up the export dropdown on the Route tab. They plan to fix this shortly.
03/11/2014 Server
It's been a frustrating process, but my web host has finally completed migrating my web sites (including mapRoute) to a brand new server with solid-state disks (SSD). This was as a result of a support case I raised on Friday due to very slow server performance. I don't expect any data to be missing and all checks so far have showed no issues. Hopefully performance will be that little bit faster too.
29/10/2014 intermediate
In-app Geocache listings show attributes as well as listing and log photos. Click the thumbnail image to display larger image. Right-click large image to close.
The next few logs are automatically loaded when you scroll to the bottom of currently loaded logs.
Geocache tab allows cache checkbox selection. You can then export the selected caches in the format required. This method does not require additional API calls.
Right-click a checkbox to invert the selection of this and all boxes below.
23/10/2014 intermediate
When Full Geocaching Live API calls are made a left-click on a Geocache icon shows the listing within mapRoute. Once revealed move the cursor over the light bulb to reveal the hint. Cache name, owner name and finder names all link to appropriate pages on Geocaching.com. To hide the page simply click the red close x or right-click anywhere on the listing.
Premium members can now use the more accurate Ordnance Survey data to generate elevation graphs. Graphs on the route tab only use SRTM3 data. Graphs are no longer automatically shown when loading a route.
More under the covers work to release more memory.
BBcode parser has been tweaked to cope with multi-case tags, such as
[Green]
.
Fixed listing links to work in all browsers and tidied up hints (26/10/2014).
17/10/2014 intermediate
The date that you found a Geocache is now available on the Geocache tab to all users. This has been made possible by a change in the Geocaching Live API.
Right click the Geocaching button to quickly toggle between Lite and Full API calls.
Lite or Full is highlighted on the Geocaching button so you easily know why call type you are using.
A red (lite) or green(full) light is shown against each cache on the Geocaching tab. This will be more useful when I introduce the ability to export all loaded Geocaches.
On the Geocache List I have replaced the text
Full
and
Lite
with the same lights as above, which look much nicer.
Under the covers fewer icons are used for each Geocache, which makes the map more responsive if you have a lot of caches load.
When reloading a cache that you already have loaded a Full cache will not be overwritten by a Lite cache.
13/10/2014 intermediate
All of the previous release is now available to all members.
Re-worked how Geocache Lists and Additional Waypoints work. Now you must have the caches loaded using the Full API call. To show the Geocache List you must have a route of at least two points, though it doesn't have to be a saved route).
The Geocache List will show all caches along the route in the correct order. Other nearby loaded caches will appear at the bottom of the list. Only caches loaded via a Full API call will display the hint on the printout.
Press
A
to toggle additional waypoints for all caches loaded via a Full API call.
The
Find/Waypoint
string is now validated/updated to prevent unnecessarily processor intensive searches.
Internal restructuring to save memory.
07/10/2014 intermediate
All dates formatted to dd/mm/yyyy. Dates in tabs can still be sorted.
Geocache infobox width expands with long cache names so cache names rarely spill onto a second line. Also some re-formatting within infobox.
Option available to make Lite or Full API calls to Geocaching Live. This feature is currently only available to privileged members. This allows mapRoute to display the status of the last five (max) logs. A blue arrow points in the direction of time indicating the newest log is to the left. The number of days since the last log is shown as before. You must have
Logs per Cache
set to a value other than zero. Any value from 1 to 5 will show that number of icons. Anything larger than 5 will only show the 5 most recent icons.
The infobox below shows all of the above changed.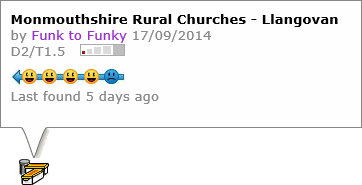 03/10/2014 major
A complete overhaul of the
Find
function. Complete guide available
here
. GeoNames web service still available via a W: prefix, but main search replaced with various Ordnance Survey databases:
- Gazetteer. The default search will find any name present on an OS 1:50k map. Example
Cat Bells
will locate the hill in Lakeland.
- Postcode. Locate any postcode in England, Wales or Scotland. Example
P:SO16 0AS
will locate the Ordnance Survey's postcode location.
- Locator. Locate any street name. Example
S:Birdcage Walk
will locate the street near Kensington Palace along with the other 5 streets in the UK that share the name.
- Roads. Search for road classifications like A and B roads. Example
R:A1
will show you where the A1 runs.
Fastswitch between coordinate systems and imperial/metric units. Also elevation systems for privileged users (see below). This saves going to the settings screen for frequently used changes.
- Click on map coordinates (status bar at bottom of screen) to toggle through degrees-->degrees and minutes-->OS grid reference.
- Click on route distance (now --- if there is no route) to toggle between metric and imperial. This affects distance and elevation.
- Click on elevation to toggle between SRTM and OS data. Priv users only.
Added Ordnance Survey elevation data for priv users only. This is more accurate data than the SRTM data. Currently only available for cursor location, but will add for graphs soon.
14/09/2014 minor
Toggle additional waypoints for loaded caches via the A key.
Option to export caches for AlpineQuest (recommended Android mapping app) so the correct Geocaching icons are displayed. This is a temporary measure until an AQ fix is implemented.
Option to export caches without additional waypoints for apps that can't handle them.
Both of the above can be configured independently for custom and individual downloads and are available to privileged users.
Allow minimum route transparency of 1, rather than 0.
Fixed bug where custom tick boxes and their headings were mis-aligned.
Fixed bug where lite caches available showed as zero after loading a route.
24/08/2014 minor
All relevant columns on the Geocaching tab can now be sorted. This now includes Owner, Container and Cache Type.
Geocaches loaded via the API from the Geocaching tab can be restricted via the radius from your map centre (50km radius maximum imposed by Geocaching.com) and/or maximum number of Geocaches you wish to return. Caches are always returned nearest to centre first. These settings are also retained for future sessions.
Added 16 point
Direction
column to Geocache tab. Sorts from North clockwise and vice versa.
All Geocache searches now ignore caches on your
Ignore List
as configured at Geocaching.com.
14/08/2014 major
Geocaching tab added.
The "Geocache list" is a list of caches that the user has downloaded during the session and can be added to by:
- loading Geocaches onto the map.*
- clicking the
Find
button on the map added in the previous release.*
- a search initiated from the new Geocaching tab. This is the new functionality which I will be concentrating on here.
Four radio buttons allow you to specify:
- Unfound / All
- Owned / Not owned / Both
- Available / Unavailable / Both
- Day / Week / Month / Any ; This specifies the period when the cache was published and equate to: the last 24 hours / the last 7 days / the last 28 days / any date.
There are also two text boxes where you can enter the Geocache name (or part of it) and the Geocache owner name. The owner name must be the complete name.
Any combination of the above 6 variables is permitted.
The
Geocache List
can be cleared at any time by selecting
Clear Caches
from the menu (top left).
All Geocaches will be displayed on the map as icons and will be available on the Geocaching tab. A maximum of 50 Geocaches will be loaded at a time. These will be the nearest Geocaches to the centre of your map that meet your specified criteria and within a 50km radius. Geocaches which you have already loaded will not be duplicated in the list, but will still affect you download limits. All of the above specified Geocache API calls are taken from your Lite allowance, so most people will have plenty of calls available to them, even Basic members at Geocaching.com (though they will only see Traditional Geocaches of course).
Clicking the cache type icon will locate that cache on the map.
Clicking on the cache name will open a new tab showing the listing at Geocaching.com.
Clicking on the owner name will open a new tab showing the owner's profile page on Geocaching.com.
If the cache is no older than a week a
new
icon appears in the Status column. If the cache has not been found and

if it has been found. This is over-ridden by

if you have found the cache.
The number of caches loaded is displayed by the

button.
Caches appended to the
Geocache List
will appear at the bottom of the list, but don't forget you can sort the Geocaches by left or right-clicking on the appropriate column heading. A few columns cannot currently be sorted due to a technical issue.
The backround of the number of favourites will appear gold if you have favourited the cache.
Privileged mapRoute members
- An additional column showing the date that you found the geocache.
- Hover the cursor over the
Found It
smiley to reveal your log. All smileys and BBcode are decoded, so the log looks very similar to how it looks on Geocaching.com.
For the record I should note that a lot of work regarding Geocaches was done and then removed due to insurmountable technical issues.
* Indicates that this is not a new feature.
01/08/2014 minor
Find Geocache
can now search for:
Geocache code (e.g. GCYK2B). Enter the code and do not leave out the GC prefix. A maximum of one cache will be returned.
Geocaches owned by a specific owner. Prefix the full owner name with O: (e.g. o:SidAndBob). You must enter the full owner name.
Geocache names. This is the default search.
All search strings are not case sensitive.
Geocaches returned from a search are highlighted by a green arrow above them. The arrow(s) are cleared on the next search or when you
clear caches
.
A maximum of 50 Geocaches will be returned.
Cache names display (press
N
when caches loaded) has been fixed. Now also switches between two different font sizes (for those that need glasses
).
30/07/2014 intermediate
Most columns on tabs can be sorted by left-clicking the column header for ascending order, or right-clicking the column header for descending order.
The Find/Waypoint button now allows you to search for caches by name. The GeocachingLive API only allows you to search within 50km of the map centre and will make calls utilizing your lite allowance. The name is automatically wildcarded at either end, so searching for "tar" could return "start" for instance.
Loads more Geocaching stuff for privileged users including a Geocaching tab which allows searching by name, owner and filtering by found/unfound/both, owned/not owned/both, archived/active/both, available/unavailable/both and caches published in last day/week/month/year/any time. I am aware of some minor bugs in this area which I'll fix for the next release, but just wanted to get this functionality into production.
06/07/2014 major
Geotoken from Geocaching.com is now stored, so you don't have to go through authorization each time. You can get a new token by selecting the option from the menu.
The rest of the changes affect privileged users only at the moment.
All caches loaded by premium members at Geocaching.com are saved. These cache icons can be displayed automatically as you move the map, in the same way that hills and trigs are (and geocaches are when you have autoload turned on). This makes loading geocaches much quicker. Up to 100 caches are loaded at a time within a fixed distance from the map centre. Select an option in
Settings->Saved Caches
to turn this on.
All cache listings will be downloaded for caches you have found that are not already held. This happens for new finds each time you log in to mapRoute. Be aware that these listings will come out of your full cache daily allowance.
If the full cache details have been downloaded you can see the full listing on the left side of your screen by simply hovering the mouse over the cache icon. Select an option in
Settings->Listings and Logs
.
Your "found it" logs will be displayed at the top of the listing.
Additional waypoints will be displayed by pressing the A key. There is more work in the pipeline to populate more additional waypoints.
Saved caches will display a floppy disk icon below them. The label colour indicates the age of the data. Green < 1 day, orange < 1 week, red = anything older. The saved cache age is displayed in the infobox.
You can show your finds only by selecting
My Finds Only
from Settings->Saved Caches. The radius of the found caches will be much larger than for unfound caches and up to 250 caches will be shown at a time.
Caches can be pinned and unpinned by clicking the pin/arrow icon in the top right of the screen. Pinning keeps a listing from being hidden.
If listings are not pinned move the cursor over the listing to prevent it from hiding itself. This also allows you to scroll longer listings etc.
Saved caches can be turned off if not required.
I'll write a user guide after development has completed in this area.
20/05/2014 intermediate
Geocache assist page added. Lists the caches associated with a route and key information including the hint. Big font for those oldies with failing eyesight (it catches up on us all one day). This is intended to be printed and taken caching with you, especially when there are a lot of caches along your route. Arrange caches into the order you plan to find them. I will update the Geocaching Guide in the next couple of days. Here's a short guide in the meantime:
1. Create and save a route.
2. Export the geocaches for that route
3. Make sure the route is loaded on the map.
3. Press the "L" key to load the listings page. You may be prompted to allow popups and may have to then press "L" again.
4. On the geocache page (in a new browser window) drag the caches to the desired order. If you don't want to print any of them drag them below the bar. The order is retained if you subsequently re-open this page.
5. Print the page and take it with you. Save looking up cache details on your GPSr or phone and make notes against caches, like TBs left, or memory joggers for your logs.
13/05/2014 intermediate
Formatted printing from IE and Chrome. Large buttons on tablets. When editing routes grab handles are much easier to grab, especially on tablets. Map screen loads more quickly than before as images and code is pre-loaded.
When in
Find mode
focus is put on first field. Enter key completes any find operation. Tab between field order fixed. Map focus is placed on location before saving waypoint to confirm you have keyed the right coordinates.
The number of caches loaded onto the map is displayed (as they are loaded) on the status bar. It used to just display the final number.
The import of Trigpoints from T:UK site by dragging your personalized exported CSV from
here
into the Import tab is now available.
02/05/2014 documentation
Route Guide
. How to create, edit and manage routes. Elevation profiles. Shared routes to be covered in a separate guide.
01/05/2014 documentation
Geocaching Guide
. This is obviously a guide on how to use the Geocaching components within mapRoute rather than a guide to Geocaching itself.
29/04/2014 minor
Left click a waypoint map icon to edit the waypoint name, description, location or icon. You can also delete a waypoint from this edit form. Right clicking a waypoint still allows direct deletion. Waypoint infobox formatting changed.
Hill and Trigpoint selections in the Settings tab now appear collapsed so they are not visible unless they are expanded.
Fixed bug where waypoint coordinates with leading zeroes in decimal portion was being created incorrectly. i.e. 51.12345, -2.00123 was created as 51.12345, -2.12300
25/04/2014 major
Introduced Waymarking, though not available for general use yet. More information will be posted when/if permission is obtained from Groundspeak.
Pop-up message formatting and colour coded. Green: information. Orange: Warning. Red: Error.
Status bar messages cleared after a few seconds.
Route length is now dynamically displayed in the status bar as you change the route in any way. Bug fixed in route length when adding a point to the start of the route.
Focus on new waypoint when it is created. Zoom level remains unchanged.
Re-wrote user type limits code. Routes and Waypoints tabs display
used/total available
in top left corner. Archived routes no longer count towards route total. There are currently 13 different limits for 4 user types.
Import process refined and making more use of limits.
10/04/2014 minor
Export no longer returns hill and trig types that are not selected in Settings. Fixed hill/trig/both radio button initial selection on hill tab. Display hills, trigs and pillar bagging totals on hills tab. Tidied up status bar messages and clear message after a few seconds. Fixed geocache container icon in infoboxes. Display premium cache icon in infoboxes. Tweaked geocache infobox layout. Created separate licenses for production and development environments. Increased interval between Helper messages.
02/04/2014 intermediate
Right-click any cache name label to reset all cache name labels to their original positions (IE only). Instated scheduled deletion of all routes archived more than 28 days ago. This will be reduced to 14 days shortly. Fixed Hills tab object type selection, now retained in session and written back to database. Tweaked route styles. Deleted inactive users (notification emails sent two weeks ago). Added two new hot keys.
X
to toggle the crosshair visibility and
N
to toggle cache Names visibility.
Internal - Removed Ajax error messages, writing to a database error log table instead. Re-instated svg crosshair after overcoming Opera 16.12 issue. Re-designed the way route colour and transparency are stored internally.
26/03/2014 intermediate
Added geocache name labels. Select
Menu->Cache name
to toggle this feature on and off. The labels are primarily for those that want to print out the map. Labels can be dragged with the mouse to ensure there is no overlapping of text (currently only in IE). The symbol is attached to the map icon of geocaches which have never been found while

is attached to those that have been published in the last 7 days and have been found. Date published and the number of days since the last find is shown in the infobox when the mouse is placed over a cache icon. The days since last find is coloured orange if more than 15 days and red if more than 60 days.
22/03/2014 intermediate
Added Helper to guide users through basic operations. Fixed reverse route. Converted SVG crosshair to PNG so Opera 12.16 would work at user request. Added logo splash screen. Made code JSLint compliant. Minified JS code for the first time. Added dot-dot route definition.
06/03/2014 minor
Added larger graphic for crosshair and made it invisible to the cursor, so you can drag the map even if you click on the crosshair. IE doesn't work as well as other browsers here as you can drag across the crosshair, but you can't initially click on it. Made crosshair positioning more accurate. This positively affects the positioning of waypoints. Adjusted positioning of elements on the screen whilst adding a waypoint.
Also fixed a couple of bugs that have been introduced when burning and archiving routes.
05/03/2014 intermediate
Added ability to load more than one route at a time. Only one route can be edited and this is loaded in the normal manner.
Static routes
can be loaded by right-clicking on the
view route

icon. This is useful if you want to compare routes (a planned route compared to an imported track for instance). You can load as many static routes as you want. The map menu has an option to
Clear Static
, which will remove all static routes from the map, while the
Clear Routes
button (or press C) still clears the active route.
24/02/2014 intermediate
Replaced drop down folder selection with drag and drop. Members that have access to folders will see an Add Folder icon

on the routes and waypoints tabs. Drag the route or waypoint folder icon

to anywhere that's blank or text on the folder row you like (don't drop on another icon, though you will be warned if you do). The object is immediately moved to that folder. If the object is already in a sub-folder and you want to move is to the parent folder simply drop it in the first row (the one that shows the back arrow and the current folder name).
Handle cancel move waypoint better. Used to just redraw all waypoints, now delete moved pin and add back in to the layer.
20/02/2014 intermediate
Added route folders. As with waypoints, you can create a folder hierarchy and file your routes conveniently by the categories of your choice. Current folder name also appears in a different colour. Currently only available to premium members, but will probably be rolled to basic users at a later date.
After spending a lot of effort implementing fly-out menus for exports three months ago I have replaced them with a much simpler drop down list. This prevents annoying fly-outs when the mouse passes over them and is arguably prettier.
Added same export functionality to Shared Routes as there is on Routes.
18/02/2014 intermediate
Added waypoint folders for premium members so you can group your waypoints by category. Choose to display or hide waypoints at a folder level. You must still have waypoints switched on in your settings. You can also delete all waypoints in a folder with a single deletion.
Fixed minor padding issue when partially entering waypoint coordinates.
Tidied up Manage tabs
table
formatting.
Updated Quick Help screen. Press H or ? to display it.
17/02/2014 data
Updated trigpoint data with latest updates. Added approximately 1,400 new objects. Intersected Station (858), Bolt (274), Surface Block (116), Rivet (97), Buried Block (49), Cut (8), Disc (7), Other (6).
Refined and documented process so this can be done quickly and easily in future.
06/02/2014 minor
Mostly work on import process fixing bugs and making improvements. After dragging in a gpx file you can now edit the waypoint/route/track name by clicking on the name. When the object is imported it will have the edited name. Imports now handle special characters (apart from double quotes") in the object name.
28/01/2014 intermediate
Introduced management screen sizing for lower resolution and small screens, so they don't extend out to the right past the map.
Finally got rid of that pesky gap under the status bar.
Added management tab hot keys. These are activated from the map to go directly to a specific management tab. 1->Routes; 2->Archive;.... 8->Settings.
Fixed object refresh/clear when leaving settings after changing which objects are to be displayed or hidden.
27/01/2014 minor
Automatically log out after session timeout. Reduce sensitivity when loading objects after a map move.
18/01/2014 intermediate
Shared Routes
button becomes
View Routes
locating your routes and/or other users shared routes within a configurable radius of the map centre. Click any of the route pins to view/edit the route on the map. Right click any route pin or waypoint pin to delete that object (confirmation required).
17/01/2014 major
Tidied up icon selection. Enabled editing of hill bagging dates. Lots of work on Munzees, but waiting for the owners to get back to me before I release this to the public. Watch this space!
14/01/2014 intermediate
New shortcut keys, like H for Help or R for Create Route make editing routes even faster. Currently active button is now highlighted. Hill and trigpoint load is smoother. Graduations on graph are proportional to route length. Handles very long routes (>400km) better. Added elevation data for most of Europe.
23/12/2013 intermediate
Additional Waypoints now included in geocache download.
Number of geocache logs to download is now configuarble in Settings.
Shared routes also appear in Nearby tab now.
21/12/2013 intermediate
Added routes to Nearby tab, so you can see your routes closest to the map centre at a glance.
19/12/2013 intermediate
Refined import process allowing preview and selection of which objects are imported.
Added route links (Active route tab) so you can share routes via email, web, geocaching listings or logs etc as
Ben Nevis
or

(image underline added by forum BB code). Help page updated.
06/12/2013 minor
Added an alternative set of Geocaching icons. Contact me if you require any additional icon sets adding.











29/11/2013 major
Implemented gpx file import allowing routes, waypoints and tracks to be imported. Routes and tracks will be reduced to 75 points to make them managable. This process will be further refined in future versions.
17/11/2013 major
All downloads can be combined in a single file. Configure the custom setting to download the data you want in a single click. Fly-out menu on download button implemented.
07/11/2013 MAJOR
Major release implemented. Includes hot key (top right) to all non-map functionality, on-map interactive elevation graphs and much more. Move cursor over the graph to show position on map. All pages moved into a single page, so you never leave the map (which helps licensing restrictions hugely).
24/10/2013 major
New "Nearby" tab lists waypoints, trigs and hills nearest to your map centre. Quick links to Routes and Settings also added.
18/10/2013 MAJOR
Major re-working of Settings (formerly known as Profile).
16/10/2013 major
OS Grid Reference format implemented. Just select your preferred location format in settings.
15/10/2013 minor
Hills and Trigpoints tutorial is now available on
The mapRoute Channel
.
13/10/2013 minor
The MENU button is the key to much of mapRoute's functionality, so I have re-named it to draw attention to it.
08/10/2013 intermediate
Registering, activation and password reset updated.
15/09/2013
mapRoute has just gone live after being
approved by Groundspeak
.
10/08/2013
Final testing is under way. mapRoute will be here very soon now.