Geocaching Guide
Posted: Wed Apr 30, 2014 1:51 pm
This page does not attempt to explain Geocaching concepts. If you are new to Geocaching a good place to start is
here
.
Your mapRoute login is not associated with your Geocaching.com login in any way. For example, you could use the same mapRoute login with a different Geocaching.com login each time you logged on if you wanted to.
mapRoute does not retain any information from your Geocaching.com account.
Geocaching.com
You must have an account on this site. mapRoute will work with either a Basic account (free) or a Premium account ($30/annum), though functionality will be reduced with Basic membership due to restrictions imposed by Groundspeak, the owners of Geocaching.com.
Ensure you are logged in to
geocaching.com
before logging in to mapRoute.
mapRoute
When logging in you must have the Geocaching Live tickbox selected. The first time you use the API you will then be directed to an authentication page at Geocaching.com which will ask you to confirm that you allow mapRoute to access data via Geocaching Live. If you are not logged in to Geocaching.com you will be directed to a login page first.

A large Geocaching button in the bottom right corner of the map confirms authentication success. The button shows your Geocaching user name, membership type, avatar (replaced by mapRoute icon if no avatar is set), number of full API calls remaining/number available in 24 hour period and the number of lite API calls remaining/number available in 24 hour period. Moving the cursor over this button will highlight the area for which Geocaches will be loaded if the button is clicked. The highlight will be green for Full PAI calls and red for Lite API calls. The number of geocaches loaded is briefly displayed in the status bar message area (bottom right). The number now available will be adjusted accordingly after each API call.
Visit
Groundspeak's forums
for more information regarding their API.
Note: You can quickly switch between Full and Lite API calls by right clicking on the Geocaching button.
Clicking a Geocache icon will open the listing in mapRoute (or on Geocaching.com in a new tab if a Lie API call is used).
Right-clicking a Geocache icon will open the
Post a New Log
page for the cache.
Moving the cursor over a Geocache icon will display the infobox. The number of favourites and trackables are shown providing there are some. Also the number of days since the last find. If you plan to find caches with a large number of days since the last find you should check the listing to make sure there is not a known issue with the cache. The number of days since last find will be shown in grey, orange or red dependant on how long the period without a find has been.
The status of the last five logs is aso shown so you can easily identify caches where there may be a maintenance issue.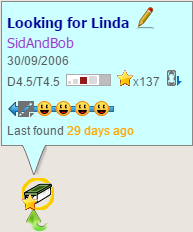 Geocaching options are configured in the Settings tab (press
8
from the map). Here you can:
- Hide/show caches you have placed.
- Hide/show caches you have found.
- Allow geocaches to be loaded automatically as you move the map around.
- Define the radius of the Geocache load area.
- Define your favourite threshold. This displays the favourite icon

on geocaches with at least your selected number of favourite points.
- Choose the Geocache icon set to be displayed on the map. There are currently two sets. Official Groundspeak icons
and pin icons.
This will not affect the icons you see on your GPSr.
- Define how many user logs you want to export for each Geocache. See
Exporting Geocaches
.
Your caching name along with current tally of finds and hides is also shown.
View your friend's logs highlighted at the top or in-line.
Icons
As well as the geocache type icon the following indicators may also be super-imposed.

Owned by you.

Found by you.

Currently unavailable.

One or more trackables are logged into this cache.

Number of favourite points reaches your defined threshold.

This physical cache is defined as having a container type of Micro or Other.

This Geocache has been placed in the last 7 days and has been logged as found.

There are no "Found It" logs yet for this cache. The FTF is still up for grabs!

Corrected coordinates.
Displaying Geocache name labels on the map
Select Menu->Cache Names to toggle displaying the full name of each cache alongside the map icon. Press the
N
key as an alternative short cut.
The names appear with a translucent background to make the text more visible without restricting map visibility.
The cache name can be dragged to another location. This is so you can avoid one label obstructing another one. Right click any label to reset the location of all labels. Moving labels only works in Internet Explorer at the moment.
Viewing a list of Geocaches
Press
9
to view the Geocache tab. All columns can be sorted by left (ascending order) or right (descending order) clicking on each column name.
Click a cache icon to centre the map on that Geocache.
Click on the cache name to centre the map on that Geocache and reveal the Geocache listing.
Click the CO (cache owner) name to view the user's profile in a new tab.
The API column indicates how the cache was downloaded.

Full

Lite

gpx file. Clicking the

icon will refresh the Geocache information with a Full API call.
If you have a route loaded the Prox and RtDist columns will show the shortest distance the cache is from the route and how far into the route this point is.
All selected geocaches

will be exported to a gpx file when you press the

button. A choice of file formats/data content will be offered.
Filters
By moving the cursor over the top filter line you will reveal a second filter line as below. Clicking on a cache icon or cache size will toggle the item from the filter. These filters are very powerful, but simple and intuitive to use.
A third way to load a Geocache
From the map press
F
ind and then in the Find Geocache data entry area enter either
[*] Partial Geocache name (within 50km of map centre)
[*] o:sidandbob to find all Geocaches owned by SidAndBob (within 50km of map centre)
[*] cache code i.e. GCYK2B to find this cache
The located caches will have a green arrow underneath them to highlight them.
Yet another way to load a Geocache
Drag and drop a gpx file onto the map surface. Tip: Get your
My Finds
PQ and drop it on the map to see all of your finds with all of your logs (v8 only).
What's what in the Geocache listing
Click cache name to open in Geocaching.com (also works from the infobox)
Click CO to open in Geocaching.com (also works from the infobox)
Click

to send a message to the CO.
Move cursor over

(if present) to reveal hint.
Click

to correct coordinates.
Click

to add additional notes.
Scroll to bottom of logs to load more logs.
Load all logs by click
Load All Logs
button. When all logs are loaded the totals for each log type will be displayed before the first log.
Click the cache code to copy it to the clipboard.
Click the favourite star

to add/remove your favourite point. You must be eligible to add a favourite point for this functionality to be available. The star will be green

if you have added a favourite point. (also works from the infobox)
Click

to drop off a TB. Only available if you have a TB in your inventory. (also works from the infobox)
Click

to pickup a TB. Only available if there is a TB in the Geocache. (also works from the infobox)

on one of your logs to upload a photo. This has quite a bit of added functionality to the Geocaching.com photo uploads. I'll document this soon.
Logs are automatically decoded for BBcode or markdown depending on which is detected. Click on a log to toggle the decoding method. Geocaching.com switched from BBcode to markdown and now shows BBcode encoded logs incorrectly.
Click on photo thumbnails to view the large image. Forward, back and play buttons show previous, next and slideshow.
Click on the finder's name or avatar to view their profile in a new tab.
Geocache Overview Printout
When you have a route and Geocaches loaded press
L
to show an overview of the Geocaches along your route. This is very handy when printed out to take with you. The cache order will be as the caches appear along the route. Alterations can be made by dragging Geocaches up or down the list. The printout works well with a large cache trail. Hints, cache sizes, status of last 5 visits etc can be identified very quickly and it's an easy way to make notes as to which caches you dropped or picked up TB's from or memorable things that happened to assist you log writing. Press Cntrl P to print the page.
Tips and Tricks
- Turn off automatic loading of Geocaches. This option is switched on for new users to show how caches can be loaded without having any knowledge of the application. It is better to load caches manually when you want them.
- You should check the export file before setting out on a trip on your GPSr or on a suitable Geocaching compatible PC application. I use Garmin MapSource to confirm the file is valid and the caches I want are there. Having said this, I have never had any problems, it's just for peace of mind.
- Export your route and Geocaches in one go. Make sure you have selected a minimum of Route and Geocaches (GC and Rte) in the Custom export tickboxes and then select Custom export instead of Geocaches export. All of the object types will be exported into a single GPX file which makes things super-easy.
- Include the Track in the custom export. Many GPSr units will allow you to load this and view the track whilst navigating to a Geocache. This stops the need for constantly swapping between navigating a route and navigating to a Geocache.
- Print a hard copy of the map so you can see the cache locations at a glance and maybe make notes (trackables dropped etc). Don't forget to display the cache names first. It can also make determining similar, long cache names (as found in many Geocache series) much easier.
Reduced functionality imposed by being a Basic member on Geocaching.com.
- Lite calls (used to populate the map with Geocache icons) will only get Traditional cache type, not multi-caches, puzzles/unknown, events etc.
- Full calls (used in GPX exports) are restricted to 3 calls per 24 hour period as opposed to 6000 for a Premium member.
- Lite users will be shown a message when making Full calls suggesting that their membership type is upgraded.
Note : The following is legacy functionality. It relates to automatically downloading Geocaches within a saved route. This functionality is rarely used, but I've left it in as it is still available.





Exporting Geocaches for a saved route


Full Geocache listings can easily be exported into a GPX file from the Routes tab. Click the Export button

for the route and select Geocaches from the list. A file called gc_<route name>.gpx will shortly appear in you download folder. The time taken to complete this will mostly be affected by the number of Geocaches being exported.
Listings are exported for:
- The area encapsulated by drawing a circle around the route with a margin around the route just in case you decide to make a detour.
- Your owned caches will only be exported if you have chosen to show them in Settings. The same now goes for caches you have found.
- Caches you have found will not be exported regardless of the choices made on the Settings tab. This will be changed to allow export of caches you have found shortly.
- The number of user logs exported will correspond to the number defined in Settings where logs are available.
It's then just a case of copying the GPX file to you device. I use a Magellan eXplorist, so I can then import routes, tracks, geocaches and waypoints (all other types of export) from the single file.



A brief explanation of how mapRoute determines which Geocaches to export


The blue rectangle (it looks like a square in this case, but that's coincidental) shows the area that encompass the route, touching it at top, bottom, left and right. From this it is simple to determine the centre of the route (depicted here by the cross hairs).
Now the distance is calculated from the centre point to a corner of the rectangle (green line). This value is increased by 5% for a bit of leeway and caches are exported from the centre point, within the radius as described.
In simple terms, you will end up with an export of all unfound caches (and owned and found caches if selected) that lie within the circle.